8 Reasons Dig Can't Wait to Launch in Atlanta
Dig- The Dog Person's Dating App is southbound! On May 23rd, Dig is celebrating our Atlanta launch by hosting an exclusive, dog-friendly event at WeWork Peachtree. Entry, drinks, and dog treats are free when you download or share the Dig App. Local businesses like Gusto!, The Georgia Hemp Co, Puppy Pals, and The Unexpected Pooch will be offering free samples, coupons, treats, and dog toys. Beer and wine will be included, including samples from Jekyll Brewing. Stop by the kissing booth to meet famous local dogs like Dunkin' the Frenchie, Sparkles the Diva, and Teddy Takes the Town from Instagram. If you're looking for a new furry friend, adoptable pups will also be at the event! Here are 8 reasons we are so excited to launch in this amazing city:
Atlanta's Unwavering Loyalty
to Labs
Labrador Retrievers are seemingly just as much of Atlanta staple as Coca-Cola and boiled peanuts.
Photo by Getty Images
According to the American Kennel Club, Atlantans have deemed these sweet, friendly pups to be their favorite breed since 1991. "Labs are friendly, outgoing, and high-spirited companions who have more than enough affection to go around for a family looking for a medium-to-large dog," stated the AKC, as reason for Labrador Retrievers' popularity.
Other breeds Atlanta finds to be just peachy include Golden Retrievers, German Shepards, and French Bulldogs.
Atlanta's Appreciation for Pooches in General
Atlanta's famous southern hospitality is not just for humans.
Photo by Explore Georgia
The city is dedicated to making their furry friends feel comfortable. Analysts at WalletHub, found Atlanta to be the 12th most pet-friendly city in America, based on pet budget, pet health, and outdoor pet-friendliness.
Atlantans' willingness to make their city as pup friendly as possible may be due to the fact 54% of households in Atlanta have at least one dog. 
Dog Days Atlanta: Dog Days Atlanta, which will have a booth at Dig's launch, showcases the city's passion for pups. This wonderful doggie daycare offers cage-free boarding, a canine swim club, and a unique puppy boutique.

Puppy Pals: Puppy Pals, an app founded in Atlanta, helps out the city's dedicated pup parents by giving them a peace of mind. The app finds various venues, including restaurants, cafes, and stores, where you dog is welcomed to sit and stay.
A Plethora of Dog-Friendly Restaurants
Atlanta's delicious southern comfort food can be enjoyed with your pup by your side at all times.
Photo by The Bear of Real Estate
According to a 2017 WalletHub study, Atlanta ranked as having the most pet-friendly restaurants in America per capita. Amazing cafes and restaurants throughout the city make accommodations to welcome furry friends.
Parkgrounds: Parkgrounds, located in Reynoldstown, caters to people and pooches alike. Pup parents can sip on something caffeinated while their dogs play in the cafe's off-leash dog park.
Lucky's Burger and Brew: Lucky's Burger and Brew, named after the owners' adorable Golden Retriever, is a destination for any dog lover. Puppers, welcomed on the patio, are offered water and treats. The walls are adorned with pictures of the famous Lucky at all three locations. Patrons can enjoy dog-themed meals, including The Boxer Burger.
Gusto!: Gusto!, a Tex Mex inspired restaurant, uses the freshest ingredients. Pooches are more than welcomed to relax on the patio.
The Family Dog: This bar and restaurant is a casual spot to take Spot. Your pup is sure to appreciate any scraps you're willing to give from The Family Dog's scrumptious menu.
Nancy G's Cafe: Nancy G's Cafe wants dogs to feel included when their owners take them out to dine. This Southern Bistro not only serves delectable cuisine for humans but also offers an entire doggie menu. Your pup can choose from a bowl of bacon, a bowl of chicken, or a bowl of rice, with a complimentary dog bone on the side.
Paolo's Gelato Italian & Desserts: Paolo's Gelato Italian & Desserts is well aware dogs also enjoy a cold, creamy treat. This Gelato shop has over 60 options for people and one flavor specifically made for pups.
Pups are sure to have a howling good time at Atlanta's numerous dog-friendly parks.
Photo by Southern Living
Piedmont Park: Piedmont Park, located in downtown Atlanta, has an off-leash area where Fido can frolic. During the summer months, the park hosts various dog-friendly events. The Atlanta Symphony Orchestra has a performance at the park where doggos are welcomed to stay and enjoy the music. Piedmont Park also holds a Splish Splash Doggie Bash at the end of the summer season. At the bash, pooches can dog paddle to their heart's content in the park's public pool.

Railside Dog Park: This Castleberry Hill dog park makes for a fun, aesthetically pleasing outing. While your dog is playing with his four legged friends, you can admire the park's ornamental fencing, designed by local artists.
Centennial Olympic Park: Downtown's Centennial Olympic Park is the perfect place to take a leisurely stroll with your furry friend. Pup parents will appreciate the park's awesome, yet admittedly more people oriented attractions, such as a Coca-Cola monument and a Ferris wheel.
Stores
for Puppy Shopaholics
This Southern city sure makes easy to spoil your precious pooch. Atlanta has numerous, unique stores that cater to your dog's every need.
Photo by Dukes Dog Scarves
City Dog Market: City Dog Market, located on Peachtree Road, has a vast selection of pet supplies. At the market, pup parents can find holistic treats, adorable toys, and fashionable accessories.
Taj Ma-Hound: Since its founding in 2004, Taj Ma-Hound has become one of the most drool-worthy dog bakeries in the Atlanta area. The bakery has won numerous awards for its all-natural, restaurant quality creations. Your doggo is sure to devour every last bite of Taj Ma-Hound's delectable delicacies, including their famous Peamutt Butter treat, Pumpkin Grrranola, and carob brownie cake.
Vinings: Vinings, located in the Cobb Parkway, is a retailer focused on providing a wide selection of amazing items for their furry customers. The store also offers a convenient, self-serve dog wash station for pup parents on the go.
The Unexpected Pooch: The Unexpected Pooch is a luxury bistro and boutique for elegant pooches. Popular items from the store include adorable bathing suits, pink leather pet carriers, and black sequins tops that look stunning on any pup.
The Georgia Hemp Co: The Georgia Hemp Co. delivers high quality hemp products for both people and pups. Nervous doggos can enjoy the calming benefits of Georgia Hemp Co.'s CBD chews.

Dukes Dog Scarves: With Dukes Dog Scarves, your pup can up his fashion game. This Atlanta based company creates handcrafted dog bandanas, bow ties, and bows.
Numerous Places to Help Out Pups in Need
It should come as no surprise this pup-loving city has a plethora of dog rescues where locals can volunteer, foster, and/or adopt.
Photo by Explore Georgia
Best Friends in Atlanta: The end goal of Best Friends in Atlanta is to end animal homelessness. This shelter's motto "Save Them All," exemplifies its dedication for housing stray animals.
LifeLine Animal Project: LifeLine, a non-profit organization founded in 2002, is focused on enhancing animal welfare and has been attempting to end euthanasia in Atlanta shelters. The organization takes in approximately 39,000 animals per year. Lifeline oversees Fulton County Animal Services and DeKalb County Animal Services. Both FCAS and DCAS offer assistance to displaced animals. You can adopt a new BFF from either shelter for $85. The fee includes vaccinations, neutering, and microchipping.
Fur Kids' Sadie's Place: Fur Kids, a non-profit organization headquartered in Atlanta, manages the cage-less, no-kill dog shelter, Sadie's Place. Since 2002, Furkids has saved over 25,000 animals.
Laskey's Lucky Ones: Laskey's Lucky Ones is a no-kill rescue, focusing on the physical, emotional, and behavioral rehabilitation of dogs in need. The rescue's adorable pups are available to be adopted or fostered.
Releash Atlanta: Releash Atlanta is a nonprofit organization, run by volunteers, that rescues dogs from high kill shelters. Every pup saved receives medical attention and is thoroughly examined, vaccinated, spayed, and micro-chipped. Once the dog is deemed healthy, they are placed with foster families until they find their furever home.
Events for Pups and
Pup Loving People
Dogwood City knows how hard it is to leave your fur baby at home. There are pawsome dog-friendly events throughout the city, all year round.
Photo by Atlanta.net
Bark After Dark: Thanks to Bark After Dark you and your pup can finally go grab a beer together. This dog-friendly event, taking place on May 30th at the Battery Atlanta, offers adult beverages and beers crafted specifically for pups. Live music, dog vendors, and pet adoptions will also be available.
Atlanta Pet Expo: The Atlanta Pet Expo is an annual convention, last held this past April, where passionate pup parents can participate in fun activities, visit vendors, and even adopt a furry friend or two.
Atlanta Braves' Bark in the Park: Since 2006, the Atlanta Braves have been hosting the bi-annual event Bark in the Park, where furry fans can enjoy a game at Turner Field. At the games, the stadium has an allotted amount of seats reserved for pups and their parents. At the event pooches can enjoy doggie ice cream and take pictures in pet photo booths.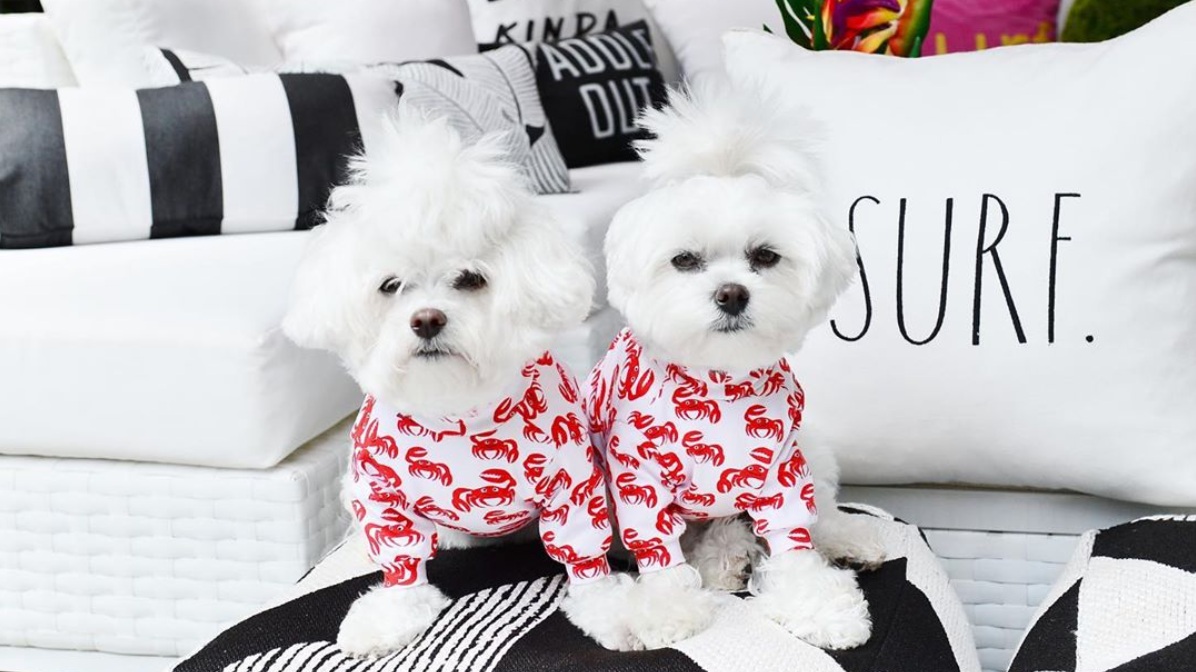 The Big Peach has amazing Social Media influencers of both the canine and human variety.
Photo by @sailorandsalty
Dog Influencers
Elliot the Bug is an adorable rescue dog who loves his furever home. His owner, Daphne Bragg, the dog foster coordinator for LifeLine Animal Project, adopted this sweet Pitbull when he was only 8 weeks old, weighing in at a tiny 3 pounds. Now Elliot is a thriving, strong, happy boy.
Sailor and Salty are two fashion forward Maltese brothers. We must say they look rather dashing in their matching Gucci harnesses.
Teddy from Teddy Takes the City is a five year old Morkie (Maltese/ Yorkie) who loves exploring all Atlanta has to offer! This stylish pup sure loves to travel.
Hula and his pal Bean Sprout share the Instagram account Hula the Scruffy Dog. The pooches have won over the hearts of their 24k followers with their sweet and scruffy mugs.
Dunkin' the Frenchie, a French Bulldog model in the Atlanta, has recently starred in a T-Pain music video. Don't worry, Dunkin's fame hasn't gone to his head, he's still the same good boy he's always been.
Sparkles the Diva is one of Atlanta's most treasured and tiniest fashionista. This eight-pound Shih Tzu loves dressing up for her thousands of adoring fans. Atlanta locals can meet Sparkles at the Paws on Patio event on June 2nd. If you're lucky, she may even give you a pawtograph.
Single Influencers:
Jessica Camerata's popular blog My Style Vita gives readers tips on how to "make life feel a little more 'put-together.'" Her fashionable posts are absolutely flawless.
Crystal Daniels, a top Atlanta Social Media Influencer and blogger, has worked as a model, a fashion buyer for Macy's, and a recruitment executive. Her blog, Society of Harlow, reaches over 100,000 people per week and has been featured in publications, such as Yahoo Lifestyle and Plus Model Magazine.
Coco Bassey's beloved Atlanta fashion blog, Millennielle, showcases her amazing personal style and DIY projects. Coco has recently been featured in Elle magazine.