Happy Dog Mom's Day!
Moms of dogs should be revered and celebrated. Dog moms and mothers to human children face different sets of challenges, and they each deserve their own dedicated celebrations. For example, dogs typically don't throw tantrums over sugary cereal in the middle of the grocery store and human children rarely attempt to attack mailmen. Regardless, dog moms fiercely love, support, and cherish their fur babies, so it's time to honor that commitment!
Last year, Dig decided it was time to rightfully recognize devoted dog moms. After weeks of campaigning and gathering signatures on Change.org, the Registrar at National Day Calendar proclaimed Dog Mom's Day an official national holiday to be observed the second Saturday of May every year.
This year, Dig will be celebrating our favorite holiday with dog-friendly parties in San Francisco, Boston, Minneapolis, and Baltimore. See the photos from last year's Dog Mom's Day events in New York City and New Orleans, and celebrate with us from anywhere by tagging @digdates and #dogmomsday!
In anticipation of the holiday, we're proud to showcase a few friends of Dig who exemplify what it means to be an incredible dog mom.

How many pups are too many? Rachel Goyette is yet to find out…
"Dachshunds are the Lay's Potato Chips of dogs. You can't have just one… They just do something to you. They take ahold of your heart and quick… I meet so many dachshund people and we're all obsessed!" said Rachel.
Rachel, an extraordinarily talented pet photographer, is a proud dog mom to 14 adorable pups, 3 of whom she is fostering. Rachel is mom to Hef, Sophie, Sadie, Benny, Sammy, Edgar, Duke, Grigio, Lucky, Precious, Schultz, King, Presley and Mykoin. Nine of her dogs are dachshunds.
"I recently found Dream Dachshund Rescue out of Houston, Texas through a fellow dachshund mom of 8," Rachel said. "Most of the time I temporary foster until we can get them transported to Houston so I get to meet so many adorable dachshunds and my husband doesn't kill me because the foster is usually less than 2 weeks!"
Rachel felt a strong connection to the breed after fostering just one dachshund. Once two families determined the pup wasn't right for them, Rachel and her husband decided he was destined to be apart of their pack. Soon, another dachshund entered their lives after his adoption failed. Five of her other dachshunds were adopted within a one month time period, as there was an increase in need for rehoming.
"I have been fostering dogs for Jefferson Parish Animal Shelter for a few years," said Rachel. "Quite a few of my fosters have been heartworm positive so I fostered them through treatment so the adopter wouldn't have to."
Rachel does acknowledge that 14x the love can also be 14x as challenging, and the food, medicine, and vet bills are the hardest part.
"We go through a big bag of food a week. One year of heartworm prevention for most people lasts me one month," said Rachel.
When one of the Dachshunds has an IVDD (Intervertebral Disc Disease in Dogs) episode, which is common for the breed, it's a $3k surgery. But for Rachel, the rewards outweigh the expenses.
"The most rewarding part [about parenting pups] is being their final home, knowing they will always have a place to sleep in piles of blankets with my husband and I. I love all of my second hand pups so much. I don't understand how anyone could have ever let them go. They all have their own unique personalities and we have our unique cuddles and scratches with them like it's our secret handshake," said Rachel.
Rachel's love of dogs shines through in her phenomenal pet portraits. During her studies at the University of New Orleans, she decided to use her own pups as subjects to practice her composition and shooting technique with an old film camera. In 2012, she visited the Jefferson Parish Animal Shelter to photograph rescue dogs. After being notified one of her portraits helped a pup get adopted, Rachel was inspired to continue her work.
"I try to capture some personality in my photos. One dog I photographed at JPAS now lives in Los Angeles. She had the cutest head tilt and perfect ears and a friend of a friend saw the picture on Facebook and just had to have her. She paid to fly her to L.A in this crazy expensive $900 crate because she was a pit-bull. Nothing was stopping her from adopting Marcelle. Another couple drove in from Texas because of a dog they saw that I photographed on Petfinder," Rachel explained.
Rachel shares two secrets on getting the perfect photo of your pooch: "make sure you're ready and have the camera settings you want, because once you make that squeak you might only get one shot," and, "get creative to somehow grab the dog's attention to make them look right into the lens."
For this upcoming Dog Mom's Day, Rachel is planning on getting a much-deserved pedicure and splurging on fun treats for her fur-babies.
The Dogist Project Manager Isabel Klee was born for her position. At a young age, she was getting into the mind of dogs for a special reason.
"When I was five, I pretended to be a dog until my parents finally agreed to get me one," Isabel said. "That dog was the first great love of my life – she was a huge Golden Retriever named Ruby who was wiser than any human on this planet."
Isabel recently became a new dog mom to a sweet Shiba Inu /Corgi mix, named Simon. Simon was rescued from the meat trade industry in South Korea and was adopted through Korean K9 Rescue.
Prior to owning her own pup, Isabel and her boyfriend had been fostering for over a year. Once Isabel saw a photo of Simon, she knew he had to
be hers. "We were actually not planning on adopting a dog so soon, but I saw a photo of Simon and immediately knew he was the right dog for us. Things moved pretty quickly after that, and we had him a few days later!" Isabel explained.
Isabel's love of pooches helped her land her dream job right out of college. During her final semester at Marymount Manhattan College, she applied to be the assistant of The Dogist's founder, Elias Friedman, and got the job.
As of last year, Isabel has been promoted as the company's Project Manager. She says the job has different responsibilities every single day.
"Some days are filled with calls or meetings, some days we're at shelters shooting adoptable pups, some days we're shooting flatlays for products that are about to launch, and some days we're traveling with all of our pups and creating fun content. The best part of this job is that it's always different," said Isabel.
Isabel's role as Project Manager for The Dogist, helped prepare her for becoming a dog mom.
"Honestly, my life hasn't changed too drastically [since adopting Simon.] Working at Te Dogist, my life already revolved around dogs," noted Isabel. "But to have my own dog is the most wonderful feeling in the world, and something I've been dreaming about my whole life. My days revolve around him and I wouldn't want it any other way."
Isabel agrees dog moms should be celebrated because of all the fervent, devout, and passionate effort they put in for their pups.
"The truth is - having a dog is hard. I talk about it all the time because I don't think it's talked about enough, but having a dog should not be something that is taken lightly. It's a lot of work. It's also the most fun and most joyful thing I've ever done in my life. I believe dog moms should be celebrated because we work hard and love hard."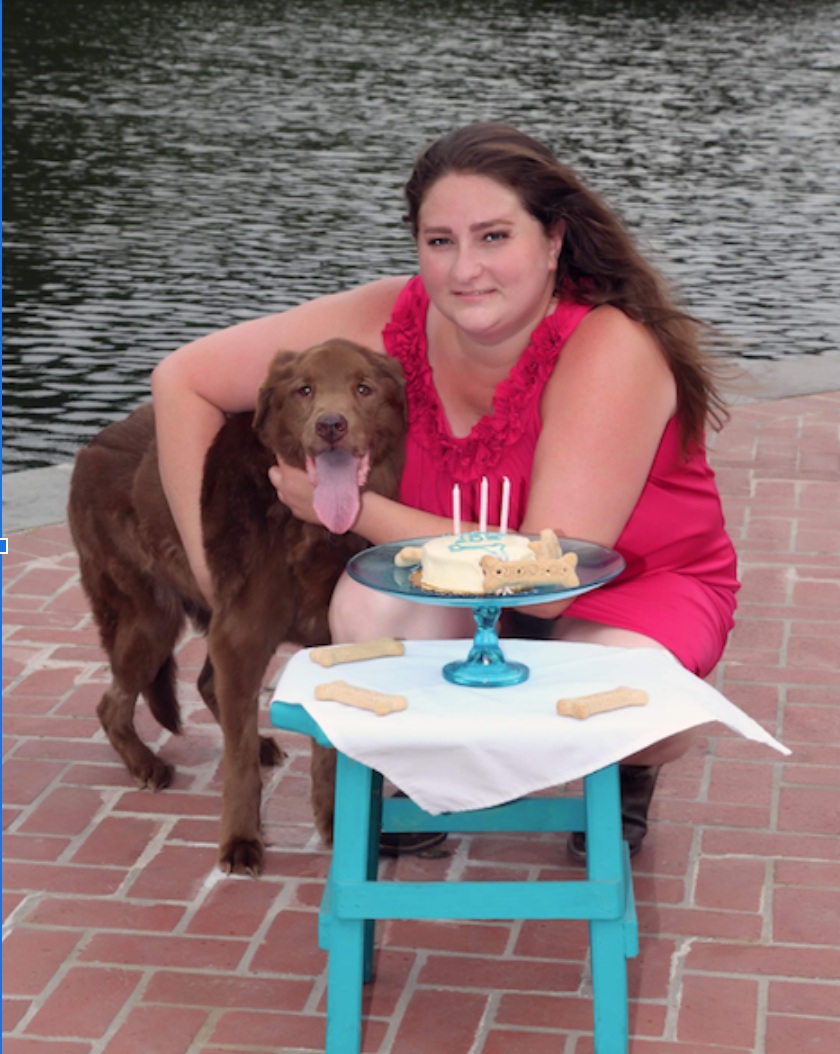 Alissa Johnson was not going to let the canine victims of Hurricane Katrina suffer in silence.
By some estimates, more than 600,000 animals were killed or stranded because of Hurricane Katrina. At the time in 2005, many emergency transportation methods and shelters wouldn't accept pets, and although much has been done to ensure that won't be an issue in future evacuations, the stray dog population skyrocketed in the years after the storm.
After working at Maddie's Fund Adoption Center as a college student, Alissa Johnson opened the New Orleans non-profit Animal Helper in 2009 in response to seeing stray dogs roaming the city due to the aftermath of Hurricane Katrina.
Animal Helper gives some of the most desolate rescues a second chance. On average, Alissa's rescue takes in 100 displaced dogs per year.
"I moved to New Orleans East ten months after Hurricane Katrina for my first job after graduating. The area was still a disaster.... There were still so many owned animals that had been abandoned and left roaming, trying to survive on the streets and in the woods and junk yards nearby. It broke my heart," Alissa explained.
"I tried volunteering with multiple rescue groups, but I didn't feel the animals were getting proper vetting and care. So many of them were in rough shape and had lost not only their health, but their sociability. It wasn't enough to simply give them food, water, and basic medical attention, so finally I decided I wanted to start my own group so the animals would no longer suffer, and not just physically. I wanted to help them heal completely."
Animal Helper is known for offering care and assistance to "unadoptable" dogs. While working at a shelter with a high euthanasia rate, Alissa, "questioned whether it made sense for a rescue to pull only the animals that were easy to adopt." For her own organization, Alissa decided to take in animals that had the potential to be adopted with additional attention, training, and care.
Alissa said the most rewarding aspect of working at an animal shelter is, "rescuing a frightened, terrified animal and witnessing their transformation in our care."
In addition to heading an amazing animal rescue, Alissa has adopted and fostered pups in need. Over the years, she has been a foster dog mom to hundreds of pooches. Currently, she has five beautiful fur babies: Mahogany, Daisy, Lourdes, Chica, and Le Le.
Alissa advises those who wish to adopt or foster dogs from extreme conditions to, "find a rescue group that can support you for the long run. Dogs are not perfect and need training and guidance to be the best possible pet. Sometimes humans need help too."
Alissa is planning on celebrating this year's Dog Mom's Day by spending time with her family, who her dogs love, in Alabama. She is also visiting one of her favorite rescue pups, Pearl, who was not expected to live due to respiratory distress brought on by late stage heartworms.
For those who wish to contribute to Animal Helper, consider donating money or items from the organization's Amazon wish list. If you are local to New Orleans, the rescue is always looking for volunteers and foster pup parents.